Bosco Verticale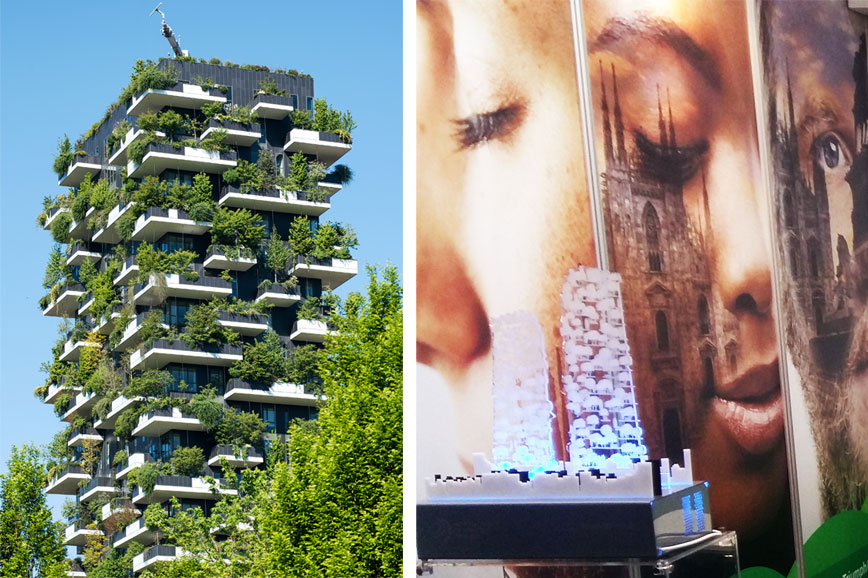 Distributed at:
EADV – 25TH EADV CONGRESS EUROPEAN ACADEMY OF DERMATOLOGY AND VENEREOLOGY
28 SEPTEMBER – 2 OCTOBER 2016
Vienna, Austria
The first example of a 'Vertical Forest' (il Bosco Verticale) was inaugurated in October 2014 in Milan in the Porta Nuova Isola area, as part of a wider renovation project led by Hines Italia. Milan's Vertical Forest, designed by Stefano Boeri, consists of two towers of 80 and 112 metres.
Features and curiosities of the "Vertical Forest":
The Vertical Forest hosts 480 large and medium trees, 300 small trees, 11,000 perennial and covering plants and 5,000 shrubs.
The equivalent – over an urban surface of 1,500 m2 – of 20,000 m2 of forest and undergrowth.
The Vertical Forest increases biodiversity. Being able to be inhabited by birds and insects, it constitutes a spontaneous factor for repopulating the city's flora and fauna.
The Vertical Forest helps to build a microclimate and to filter fine particles contained in the urban environment since the plants produce humidity, absorb CO2 and particles, produce oxygen.
The vertical forest is a new symbol in a new Milan. Awards: "International Highrise Award" "Best Tall Building Worldwide for 2015"