Milan Leonardo's city
Leonardo da Vinci, genius from the Italian Renaissance, embodied the universalist spirit of his time by applying his talent to the most disparate fields of art and knowledge.
Painter, sculptor, architect, engineer, anatomist, literary expert, musician and inventor, he is considered one of the greatest geniuses of all time.
The story of how this Tuscan prodigy came to Milan, the city of Ludovico il Moro where he spent almost 20 years, the longest period of his life, could come straight from the pages of a novel.
Leonardo came to Milan to participate in a contest for musicians. He defeated the other contestants using a silver lyre shaped like a horse's skull. The unusual shape of the instrument, which Leonardo built himself, produced a superior, more harmonious sound than all the others. His output was rich and complex during his long stay in Milan, where he painted two of his most renowned works, The Last Supper (L'Ultima Cena) in the refectory of the church of Santa Maria delle Grazie, and the Lady with an Ermine (Dama con l'Ermellino). He also created two codexes that are still preserved in the city: the Codex Atlanticus (Atlantic Code) and the Codex Trivulzianus. The urban studies he conducted during the times of the plague in Milan are still highly significant.
2019 sees the 500th anniversary of the death of Leonardo Da Vinci and Milan, the city where he spent arguably his most creative and dynamic years, is planning various celebrations.

Milan is the powerhouse of Italy: it produces 10% of the country's GNP; 25% of domestic research, it is home to 10 universities and every year it attracts over 4 million tourists. Today, it is one of Europe's most accessible and welcoming cities: 200 destinations linked by 364,000 flights a year, 380 hotels with over 21,000 guest rooms.
Milan is situated in the centre of Europe and it is one of Europe's most accessible cities: every day 800 direct flights link Milan with 200 destinations all over the world.
Malpensa airport is Southern Europe's major intercontinental hub. Milan is served by two other international airports: Linate, just 7 km from the Duomo, and Orio al Serio.
As soon as you get to Milan, you appreciate just how compact it is, with everything within easy reach. And if you want to move from one side of the city to the other, the convenient Metro network will take you there for just 1.5 euros!
An immense system that comprises services, culture, entertainment, art, cinema, television, NGOs, fashion, sport and research.
2,400 years of history have left a rich legacy. And don't worry if you are pushed for time, because the great thing about Milan is that you can find an amazing number of attractions right in the centre of town. All within walking distance.
Milan boasts a unique, world-famous artistic heritage, of which the best known is Leonardo da Vinci's Last Supper.
Highlights
Milan offers absolutely the best of everything and, consequently, the most tantalizing temptations.
You can feast your eyes in the emporia of the world's top designers in the pedestrian fashion precinct, or browse round the vintage shops in the bohemian Brera quarter. Don't forget to have a look at the Navigli canals and Porta Ticinese, where you will find a host of "alternative" shops. For the fashion conscious we suggest a visit to Corso Como 10. The widest choice of all is in Corso Buenos Aires: hundreds of shops stand one after the other along all 3 km of this street. But if you have an eye for a bargain, you simply cannot miss the largest Fashion Outlet in Europe, just outside town.
Food and wine lovers will find nothing to surpass Peck's, Italy's number one gourmet food and wine shop!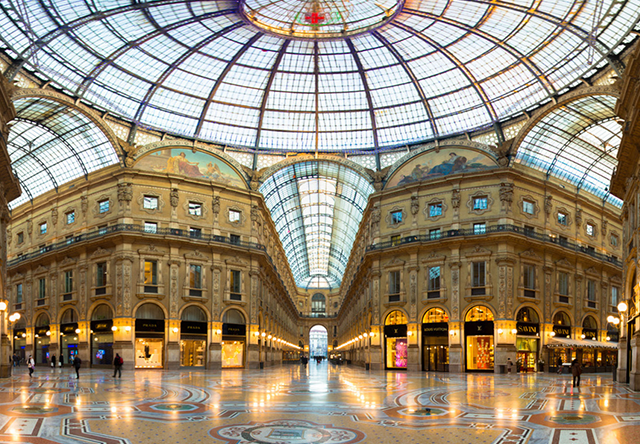 Highlights
Fashion precinct
Antiques street market
In Milan eating out is a real delight and you can choose from over 700 restaurants and 150 wine bars: don't miss the chance to try flavours from all over the world here!
After-dinner hours are even more exciting: over 100 clubs; plus 500 pubs, bars, bistrots, cafés, live music bars and a lot more besides; 50 theatres, including the world famous La Scala opera house.
Highlights
Brera
Corso Como
Isola Garibaldi