Milan on the budget
Believe it or not, it is possible to enjoy one of Europe's most elegant cities while on a budget.
Accommodation
The city of high fashion can also be a city of high hotel rates, but Milan also has its share of cheap hotels, many of those with style to spare.
Budget hotel prices – The average rate for a standard double room runs between €50 and €80 per night, with the most basic rooms going for as low as €40 per night. Milan's cheapest hotels are located around the Central Station. It is possible to find several gems, including the family-run Hotel Garda and the sunny welcoming Hotel The Best. Several cheap properties are located in the quiet neighborhood of Città Studi, just east of the city center. On Airbnb, you can find shared rooms starting around €12 per night and entire homes (usually studio apartments) starting around €30 per night.
The best way to save money when you travel to Milan is to skip the fancy hotels and stay in a hostel www.italian.hostelworld.com, in a university campus www.campluscollege.it, in an apartment for rent www.airbnb.com or aparthotel www.halldis.com, in a 2 stars hotel or in a B&B booking.com and tripadvisor.com.  Have a look at Eurocheapo.com which is one of the booking sites that lists hotels all over Europe and reviews them with a sharp eye.
Food
Average cost of food – Italy is known for its cuisine – fresh pasta, bread, tomatoes, pizza, gelato, and wine. It's easy to have a great meal anywhere in Italy for less than €15 a day. Quick eats like pizza by the slice, paninis, and light snacks will cost between €3-€7. Consider getting a panzerotto at Luini (close to the Duomo and the Galleria Vittorio Emanuele). Regarding the groceries, the most convenient are Eurospin, In's Mercato, LD Market, Lidl or Penny Market.
Getting around
Milan is a well-organized and orderly city. You may not only find accommodation with a little budget but also travel by public transportation, which is neither complicated nor expensive. Start your trip on the right heel and hit up the tourism office. The main branch is located at Piazza Castello, and a second branch is located in Stazione Centrale in the departure area. Both offices are open from 9 a.m. until 6 p.m. Monday through Saturday and from 9 a.m. until 6 pm. on Sundays and holidays. (Note that on weekends and holidays, the office closes between 1.30 pm. and 2 pm.)
Here are several cheap ways to move around Milan:
Subway
Milan is served by four underground lines which cross the city from one side to the other, with 95km (59 miles) of track. Each is identified by a colour: MM1 (red), MM2 (green), MM3 (yellow), MM4 (blue) and MM5 (purple).
In operation: from 5.30 am to 00.30 am
Frequency: every 2 minutes at peak times, every 4-5 minutes at other times.
Cost: A single trip costs €1.50 (for 90 minutes), a 24-hour pass is €4.50, a 48-hour pass is €8.25 and a ticket booklet (called a "blocchetto") of 10 rides is €13.80. Evening tickets can be purchased after 8 p.m. They cost €3 and are valid for unlimited travel until the end of service on the day they are stamped.
Bike
"Bikemi" is an easy, practical and ecological system that helps to improve the quality of the environment. It is a sharing public transport system therefore it has to be used by as many people as possible. For this reason the first 30 minutes of each use on traditional bikes are free, while the following minutes are charged accordingly to the arranged rates.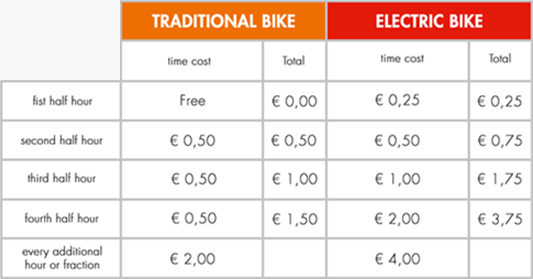 Buses and trams
ATM provides an integrated network of surface transport, based on 120 lines including trams, trolley buses and buses. ATM has also created an on-demand night bus service. Like a taxi, the bus will collect passengers and drop them off at a destination of their choice.
In operation: from 4.00 am to 01.45 am
Frequency: every 3 minutes at peak times, every 6 minutes at other times.
Cost: A single trip costs €1.50 (for 90 minutes), and can be used on the bus and on a tram, provided you make the connection within the proposed timeframe. A night bus service is available on Friday and Saturday, and buses run hourly from 2 a.m. until 5.10 a.m.
Walking around the city
Unless you are wearing a pair of four-inch designer stilettos (not unlikely in Milan), you can expect to hoof it easily to and from many of the city's central sights. Below is an example of a walking tour around the city that includes some monuments and locations of Milan: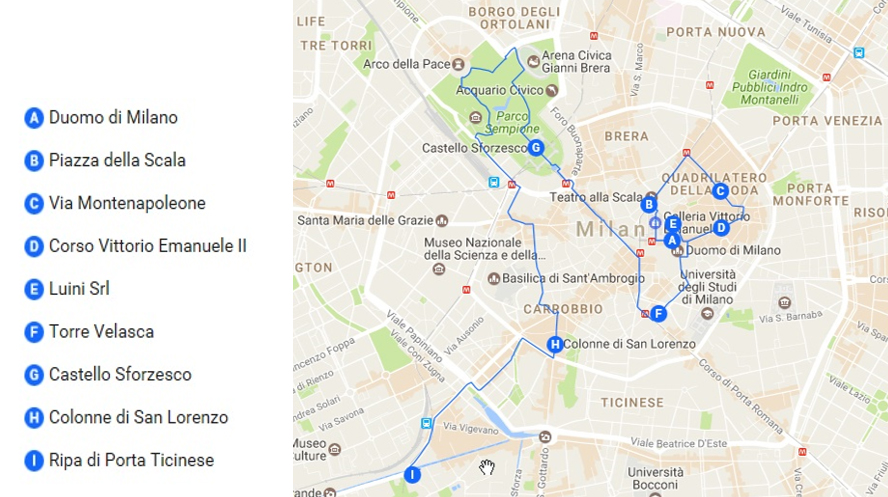 For example, the Duomo and Corso Vittorio Emanuele II are within 6 minutes of one another.
Money Saving Tips
Flock to flea markets: There are multiple-and surprisingly cheap-markets in Milan. Perhaps the most well-known flea market, where well-priced jewelry, leather goods, books, clothes and furniture abound, is the Fiera di Sendallia. It takes place every Saturday morning off of Viale G. d'Annunzio, along Milan's wharf. Ask at the tourism office for more market information.
Stock up on stuzzichini: The Italian version of a "happy hour" comes with its fair share of fine food. Order a drink at a bar around 6 or 7 p.m. on any night and you'll usually be greeted with free appetizers ("stuzzichini") in the form of olives, cheese, bread and even pizza or pasta dishes. These light meals make it pretty easy to live well and spend less in Milan. Be aware of restaurants near the Station Square since sometimes these could be tourist traps and vastly overpriced. Head about half a mile outside of this area for authentic and less expensive food.
Take the Radiobus: These run until 2 am. With tickets costing at most €3, these are a good alternative to taxis after a night out.
Do some cheap shopping: If you don't want to miss out on the fashion experience, head to the Brera District for some less expensive, but trendy boutiques.
Get a city pass: If you are going to do lots of sightseeing, the Milano Card or the Milan Pass will give you discounts or free entry to the top museums, tours, and attractions. It is priced to save you money when compared to buying separate tickets.
Drink the tap water: The water in Italy is safe to drink so avoid those expensive bottles of water and refill from the tap! You're wallet and the environment will thank you.
Buy lots of wine: You can buy a great bottle of wine for €4.
Go on a free walking tour: This is a great way to learn the history behind the places you are seeing and to avoid missing any must-see stops. Milan Free Tour has a 3.5-hour tour that can show you what the city has to offer. Make reservations in advance.
Areas of Milan
Centro Storico: The center of the city with the great Duomo in its heart makes for a great shopping and sightseeing area. The shops on Galleria Vittorio Emanuele up to the ones on Via Montenapoleone will keep you occupied for hours.
Navigli: One of the best districts of Milan, with lots of aperitivo bars, antique shops, art galleries and vintage clothing stores. It is a very relaxed area where you can hang out during the day with a nice cup of Italian coffee and go for great aperitivo's at night!
Porta Ticinese: This district has a more alternative feel to it then the rest of the city. Full of the greatest vintage shops and lots of laid-back bars and cafés. With two universities on either sides of the neighborhood (Statale and Cattolica) it is definitely a student district. On summer nights this is most evident on Colonne di San Lorenzo, where all the students gather for a drink.
Brera: Brera is a beautiful district in the city center, with the most picturesque streets. It is a very artistic district, full of museums, theatres and art and design galleries. Like the Naviglio area, it is full of cute aperitivo bars, just in a different style. While the Naviglio area is more for students that go for a bite to eat before going to the clubs, Brera hosts the many artists, designers and museum staff that work in the area.
Corso Como: Set in the district of Porta Garibaldi, Corso Como is one of the most fashionable areas of the city, where the fashionistas go for a drink after work hours. It is a good place to start your weekend, since many clubs are situated here as well. A few of them are: Hollywood, Eleven, Loolapaloosa and Tocqueville.
Porta Venezia: One of the most gorgeous residential areas of the city is located around Porta Venezia. With the Giardini Pubblici on one side and the beginning of Corso Buenos Aires (the biggest shopping street of Milan). A lot of luxurious hotels are set here and they serve as fashion show venues during Fashion Week, so a few times a year it's full with paparazzi, limousines, international stars and of course lots of security.
Parco Sempione: Parco Sempione is one of Milan's beautiful parks, just behind the Castello Sforzesco. Not only is it a nice day to relax and sunbathe in summer, there are also some great bars and clubs located here. A few of them are: Just Cavalli, Old Fashion and Bar Bianco.
How to say a few words in Italian?
Here are a few basic words in Italian that may be useful.
Hello = Ciao
Good morning = Buongiorno
Goodbye = Arrivederci
Thank you (very much) = Grazie (mille)
Please = Per favore
Sorry = Scusi (if you're speaking to a young or a friend)/ Scusa (otherwise)
At the restaurant: "Can I/we have the bill?"= "Posso/possiamo avere il conto?"
"Where can I buy/find …. "  = "Dove posso comprare/trovare…? "
"Where are the toilets? " = "Dov'è il bagno?"
"How do we go to…. ?" = " Come si può fare per raggiungere… ?"
Hope it will help you!
1-Day Trip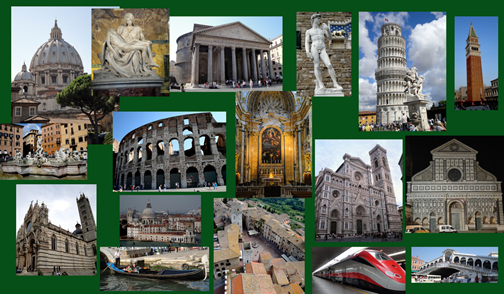 Milan's unique location allows you to reach the Mediterranean and Adriatic Seas, the Alps and Italy's most beautiful lakes (Lago di Como, Lago Maggiore and Lago di Garda) in just a few hours.
Below are some wonderful cities and lakes selected for you:
Lake Como: A gorgeous spot that's a convenient day trip from Milan, Lake Como recently earned fame as home to Hollywood star George Clooney. But celeb-spotting aside, it's known for jaw-dropping natural beauty, elegant old villas-and the scenic towns surrounding the lake. Check out Varenna, Bellagio, and Menaggio, which offer great views, historic churches, and water-based activities.
TRAIN PRICE: (the price below is calculated on March 2017 – booking 3 months in advance)
from Milan to Lake Como – from Lake Como to Milan
from June 10, 2017 to June 11, 2017: €10,00
Cinque Terre: You will find rugged beauty and a slow pace in the Cinque Terre. Named for the five towns of Monterosso, Vernazza, Corniglia, Manarola and Riomaggiore, this portion of the Italian Riviera is a UNESCO World Heritage Site. Cars are not allowed, so take local trains or ferries to go from town to town-or walk one of the spectacular trails that connect them.
TRAIN PRICE: (the price below is calculated on March 2017 – booking 3 months in advance)
from Milan to Vernazza – from Vernazza to Milan
from June 10, 2017 to June 11, 2017: €33,80
Lake Maggiore: It is the second largest lake in Italy and the largest in southern Switzerland. The lake and its shoreline are divided between the Italian regions of Piedmont and Lombardy and the Swiss canton of Ticino. Located halfway between Lake Orta and Lake Lugano, Lake Maggiore extends for about 65 kilometres (40 miles) between Locarno and Arona.
TRAIN PRICE: (the price below is calculated on March 2017 – booking 3 months in advance)
from Milan to Arona – from Arona to Milan
from June 10, 2017 to June 11, 2017: €12,20
Brescia: Set between Milan and Verona at the foot of the Alps, Brescia is the second-largest city in Italy's northern Lombardy region, with just under 200,000 people. The city's rich history dates back to pre-Roman times, when it was a Gallic capital. Among the many great local sights is the 11th-century Duomo Vecchio (Old Cathedral, also called La Rotonda), unique for its circular shape.
TRAIN PRICE: (the price below is calculated on March 2017 – booking 3 months in advance)
from Milan to Brescia – from Brescia to Milan
from June 10, 2017 to June 11, 2017: €14,60
Turin: In Turin, the capital of the Piedmont region of northwest Italy, sports cars and chocolate are a matter of pride. The city is also home to the Museo Egizio, one of the most impressive collections of Egyptian artifacts in the world. A stroll around Piazza Castello and along the Via Roma encompasses many of the must-see sights.
TRAIN PRICE: (the price below is calculated on March 2017 – booking 3 months in advance)
from Milan to Turin – from Turin to Milan
from June 10, 2017 to June 11, 2017: €19,80
Bergamo: Located in northwest Italy's Lombardy region, the province of Bergamo offers more than just a day-trip diversion from the big city of Milan. This hilltop town is known for its architectural gems, including medieval and Renaissance structures that continue to amaze tourists and locals alike. Don't miss the historic Piazza Vecchia with its 12th and 16th century buildings.
TRAIN PRICE: (the price below is calculated on March 2017 – booking 3 months in advance)
from Milan to Bergamo – from Bergamo to Milan
from June 10, 2017 to June 11, 2017: €11,00
Parma: Best known for its incredibly edible contributions to world gastronomy (especially parmigiano cheese and Parma ham), Parma has also been revered by opera lovers (who flock to its Teatro Regio) since the days of Verdi, who was born in nearby Roncole. Parma's many historic sights include the 11th-century cathedral and its baptistry.
TRAIN PRICE: (the price below is calculated on March 2017 – booking 3 months in advance)
from Milan to Parma – from Parma to Milan
from June 10, 2017 to June 11, 2017: €20,00
2-Day Trip
Many cities in Italy and Europe are also easily reached by train (Verona, Genoa, Venice) or short flight (Rome, Naples, Palermo). If you are coming from further abroad, Milan is also the ideal base for exploring Europe. Its airports service most European capitals and given their proximity you will only be flying for a short while.
Rome: The Eternal City, can be seen where ever you look in the ancient remains and iconic structures. The ethos of the city, the colorful neighborhoods, with young Romans whizzing by on scooters, loud and friendly Mammas in the markets and the delicious food (don't leave Rome without trying the pasta, pizza, ice-cream, desserts and the coffee) make this a vibrant and colorful destination.
FLIGHT PRICE: (the price below is calculated on March 2017 – booking 3 months in advance)
from Milan to Rome – from Rome to Milan
from June 10, 2017 to June 12, 2017: €81,00
Naples: Italy's third-largest city is one of its oldest, most artistic and most delicious. Its archaeological treasures are among the world's most impressive, and its swag of vainglorious palaces, castles and churches make Rome look positively provincial. Then there's the food. Blessed with rich volcanic soils, a bountiful sea, and centuries of culinary know-how, the Naples region is one of Italy's epicurean heavyweights, serving up the country's best pizza, pasta and coffee, and many of its most celebrated seafood dishes, street snacks and sweet treats.
FLIGHT PRICE: (the price below is calculated on March 2017 – booking 3 months in advance)
from Milan to Naples – from Naples to Milan
from June 10, 2017 to June 12, 2017: €40,00
Palermo: Palermo is a city at the edge of Europe and at the centre of the ancient world, a place where souk-like markets rub against baroque churches, where date palms frame Gothic palaces and where the blue-eyed and fair have bronze-skinned cousins. Despite its noisy streets, Sicily's largest city is a shy beast, rewarding the inquisitive with citrus-filled cloisters, stucco-laced chapels and vintage stores filled with the threads of faded aristocrats. Add to this Italy's biggest opera house and an ever-growing number of vibrant, new-school eateries and bars and you might just find yourself suddenly, unexpectedly in love.
FLIGHT PRICE: (the price below is calculated on March 2017 – booking 3 months in advance)
from Milan to Palermo – from Palermo to Milan
from June 10, 2017 to June 12, 2017: €74,00
Verona: Verona is a city in north-eastern Italy's Veneto The city is famous as it is the place where William Shakespeare set his play Romeo and Juliet. Verona offers a golden opportunity to see the transition of Western European art from late-Medieval to early-Renaissance styles, with its rich offering of 12-Century churches and art museums. Though situated an hour away from the more popular tourist destination, Venice, many people consider Verona a more relaxed, pleasant place to visit.
TRAIN PRICE: (the price below is calculated on March 2017 – booking 3 months in advance)
from Milan to Verona – from Verona to Milan
from June 10, 2017 to June 12, 2017: €25,50
Genoa: Genoa is one of these fascinating Italian cities that remain off the tourist radar: world famous as the birth place of Christopher Columbus, yet relatively unknown to the millions of tourists who visit Italy every year.  Multi-faceted and in perpetual mutation, the city ranges from the most luxurious aristocratic palaces in the Strade Nuove district. The whole city is just an amazing combination of strong colors and flavors, contrasts and curiosities, giving you at least 10 reasons to visit Genoa next time you are in Italy.
TRAIN PRICE: (the price below is calculated on March 2017 – booking 3 months in advance)
from Milan to Genoa – from Genoa to Milan
from June 10, 2017 to June 12, 2017: €18,00
Venice: Venice is a unique and precious repository of art. From the late Middle Ages until the mid 18th century, artists of the highest caliber left their mark all over the city and works by Venice's grand masters Titian, Tintoretto, Canaletto and Tiepolo can still be viewed in situ today. The three and a half km trip from the railway station to San Marco square provides a superb introduction to the city, telling you more about the way Venice works – and has always worked – than any historical tome. No trip to Venice would be complete without a punt down one of the city's picturesque waterways in an iconic gondola.
TRAIN PRICE: (the price below is calculated on March 2017 – booking 3 months in advance)
from Milan to Venice – from Venice to Milan
from June 10, 2017 to June 12, 2017: €39,80
Airline and Railway Companies from-to Italy
Airline Companies:
Railway Companies:
Top Thing to Do and See (for free!) in Milan
The things listed here won't cost you a thing no matter when you visit Milan – they're free year-round.
Milan Duomo: A massive Gothic cathedral, this looms over the Piazza del Duomo. With over 3,500 statues, 135 spires, and 5 bronze doors, it is not surprising to find that it took 500 years to complete. You will be left speechless by its magnitude. Milan's iconic cathedral is free to enter, although if you want to tour the Treasury or take the elevator up to the roof you'll have to pay.
Castello Sforzesco: Built in the 15th century by Francesco Sforza, the castle now houses 12 mini-musuems and a vast archive of artifacts. Collections include everything from the Renaissance period, Michelangelo's unfinished last work and Raccolte d'Arte Antica (a sculpture gallery), to the Museums of Musical Instruments and Antique Art. Admission in the Castle has a cost, but strolling the castle grounds is free.
Enjoying Milan's Parks: Milan has several big parks right in the city center. In nice weather, they're popular with locals and visitors, and in the summer you'll often find musical acts or other performances going on. The most important is Parco Sempione. This park is host to Sforzesco Castle, Aquarium, Triennale di Milano, Torre Branca, tons of esoteric bars, and a lot more. This is a great area in which to wander for hours and it is nice to relax on the grass when you get tired.
Galleria Vittorio Emanuele II: This beautiful shop-filled building lies next to the Duomo and although it is expensive to buy anything in any of its stores, it is wonderful walking through it and just enjoying the gorgeous architecture (imagine if all "shopping malls" looked like this!).
Palazzo Reale: This "Royal Palace" was actually once the center of Milan's government; it was partially torn down to build the Duomo next door, so although it doesn't look as impressive it's older than the famous cathedral. The building now houses a tourist information office, so it is worth a stop anyway, and you can also tour the palace museum for free and see a former theatre on the second floor.
Villa Belgiojoso Bonaparte Museum: This palatial former private residence is now a museum displaying artwork from the 18th and 19th century – and yes, the "Bonaparte" in the name refers to Napoleon and his family who once called the villa home.
Monumental Cemetery: The Cimitero Monumentale is just north of the city center near the Garibaldi train station, and is worth a stop if you like cemeteries. It is quite large and has some famous graves.
Milan's Aquarium: The aquarium ("Acquario" in Italian) in Milan is not too big if compared to the top aquariums of the world (especially since Milan isn't on water) but it is still a fun (and free) diversion. It also happens to occupy a very cool-looking building.
Leonardo da Vinci's Horse: Milan is best known for da Vinci's "Last Supper," but this enormous horse sculpture is another da Vinci in the city – and this one is free to check out. It is the world's biggest bronze horse statue, based on designs Leonardo made in the late 15th century.
Santa Maria delle Grazie: You may not have heard of this church, but if I tell you it's the one attached to the building housing "The Last Supper" it'll be very familiar, indeed. Seeing Leonardo's masterpiece will cost you but visiting the church next to the refectory building is absolutely free.
Visiting Other Churches: The streets in Milan's city center may look like they are all banks and shops, but there are churches tucked here and there, and most of them are completely free to enter. Highlights are the Basilica di Sant'Ambrogio (one of the oldest in Milan and named for the city's patron saint), San Simpliciano (inside this church are some of the Roman ruins in Milan), and San Bernardino alle Ossa (small church with ossuary inside).
Sights that are free on "Fridays after 2pm": There isn't a master list of attractions that fall under this category, but some of the museums and galleries in Milan that usually charge an entry fee are free after 2pm on Friday and others have different days of the week when they offer free entry. Some sights in this category are: the Museum of the Unification (Risorgimento), Natural History Museum, Archaeological Museum, and the Museums in the Castello Sforzesco.
Daily cost of budget travel in Milan: €53 (Approx. $58)
Attractions: €10 (one paid attraction + any free sights)
Food: €21

Breakfast: €3
Lunch: €6
Dinner: €10
Treat (dessert/beer/wine): €2

Transportation: €1.50
Accommodation: €20
Examples of Flights to/from Milan (the prices below are calculated on March 2017 – booking 3 months in advance):
Flying from Beijing to Milan – from Milan to Beijing
From June 10, 2017 to June 15, 2017: €520,00
Flying from New York to Milan – from Milan to New York
From June 10, 2017 to June 15, 2017: €475,00
Flying from Buenos Aires to Milan – from Milan to Buenos Aires
From June 10, 2017 to June 15, 2017: €850,00
Flying from London to Milan – from Milan to London
From June 10, 2017 to June 15, 2017: €37,00
Flying from Sydney to Milan – from Milan to Sydney
From June 10, 2017 to June 15, 2017: €605,00
Flying from Cape Town to Milan – from Milan to Cape Town
From June 10, 2017 to June 15, 2017: €456,00