About ILDS & SIDeMaST

ILDS – International League of Dermatological Societies
The International League of Dermatological Societies (ILDS) is a non-governmental organizations that works closely with the World Health Organisation. It was formed to:
Stimulate the cooperation of societies of dermatology and societies interested in all fields of cutaneous medicine and biology throughout the world;
Encourage the worldwide advancement of dermatological education, care and sciences;
Promote personal and professional relations among the dermatologists of the world;
Represent dermatology in commissions and international health organizations; and Organize a World Congress of Dermatology every four years.

ILDS Board Members

Board
Board of Directors
ILDS Executive Director
President:
Harvey Lui (Canada)
Raul Cabrera (Chile)
Joanna Groves (UK)
Secretary-General:
Jean L. Bolognia(USA)
Lars E. French (Germany)
Treasurer:
Brigitte Dréno (France)
Claire Fuller (UK)
Past President:
Wolfram Sterry (Germany)
Hassan Galadari (United Arab Emirates)
Christopher Griffiths (UK)
Chung-Hong Hu (Chinese Taipei)
Hemangi R. Jerajani (India)
Kenji Kabashima (Japan)
Thomas A. Luger (Germany)
Omar Lupi (Brazil)
Adebola Ogunbiyi (Nigeria)
David M. Pariser (USA)
Giovanni Pellacani (Italy)
Jerry Shapiro (United States)
Daniel Mark Siegel (USA)
Xuejun Zhang (China)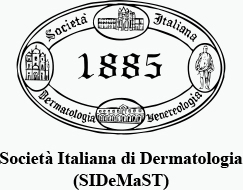 SIDeMaST – Italian Society of Dermatology
The Italian Society of Dermatology (SIDeMaST) was founded in 1885 to promote the study and advancement of Dermatology as a whole.
The main aims of the Society are:
Promote Scientific Meetings and updating courses
Discuss the deliberations of local Authorities regarding Dermatology and sexually transmitted diseases
Elect a regional delegate with the task of reporting to the Executive Board local issues related to Dermatology and sexually transmitted diseases

SIDeMaST Board Members

| President | | Treasurer | Board Member |
| --- | --- | --- | --- |
| Piergiacomo Calzavara-Pinton | | Giuseppe Monfrecola | Giuseppe Argenziano |
| | | | Antonio Costanzo |
| | | | Maria Concetta Fargnoli |
| | | | Angelo Valerio Marzano |
| | | | Giuseppe Micali |
| | | | Ketty Peris |
| | | | Paolo Pigatto |
| | | | Bianca Maria Piraccini |
| | | | Franco Rongioletti |
| | | | Pietro Rubegni |