Duomo di Milano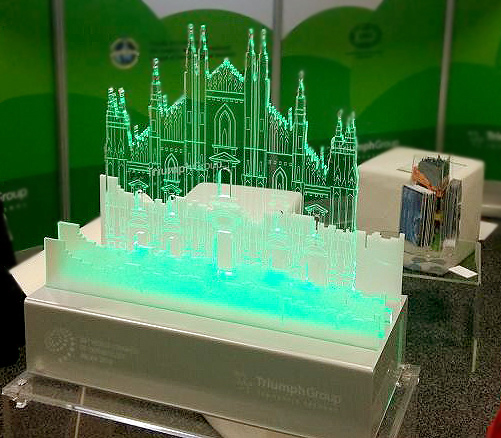 Distributed at:
AAD – 74th Annual Meeting
Washington, DC
4-7 March, 2016
The Duomo di Milano opens our story.
The Duomo di Milano, the Cathedral, offers that "spectacle of extraordinary beauty unlike any other in the world" that so impressed Stendhal, Ugo Foscolo, Mark Twain and men of every generation.
In few steps the history of it's construction
The beginning of the Duomo di Milano (1386-1387): Archbishop Antonio da Saluzzo made plans for a new Cathedral, to be built on the site of Basilica of Santa Maria Maggiore and dedicated to Santa Maria Nascente.

The Visconti era (1387-1447): Gian Galeazzo Visconti, Lord of Milan, set up the Veneranda Fabbrica del Duomo with the task of supervising the work of design, building and conservation of the Cathedral and decided to use Candoglia marble to construct the whole monument.
Architects, sculptors and workers from Central Europe arrived in Milan, attracted by the magnificence of the project.

The Sforza era (1450-1520): The building of the nave and aisles and the elegant first minor spire sculpted by Gugliotto dell'Amadeo was built and the most beautiful stained glass windows were installed.
The Borromeo era (1560-1650): Under the archbishops Carlo and Federico Borromeo the style of the Duomo was influenced by the Catholic Reformation, and examples of this influence are the 'Quadroni' or large paintings of San Carlo and the wooden choir.
17th-18th Centuries (1650-1800): The crossing was completed with the main spire and the Madonnina statue crowning it.
19th Century (1800-1900): In this period the facade and the ornamental elements were completed.

From the 20th century to the present day (1900 to date): This has been the period of major restoration work, in which the first archaeological excavations were made in the Cathedral Square.
From 1387 Veneranda Fabbrica del Duomo di Milano is the historic organisation that is responsible for the preservation and restoration of the Cathedral.